Discover more from Harold's Newsletter
Newsletter for Central Region
Merry Christmas & Happy Holidays!
December 11, 2022
Merry Christmas & Happy Holidays
With the holidays fast approaching, I want to wish you and your loved ones a Merry Christmas and happy holiday season!   While many workers start to wind down as we get closer to Christmas, in our line of work this is one of the busiest and most challenging times as the winter weather sets in. I want to remind everyone working in CJM, Contact Centres and the Airports to make sure you take your breaks, take one customer at a time, and to work one duty/assignment at a time.
It can also be a stressful time of year outside of work and your Employee Assistance Program is available 24/7.  Remember it is 100% confidential and free to use. They can be reached toll-free at 1-844-880-9142
CUPE & SCOPE WORK
Our CUPE union partners representing In-Flight have agreed to issue a bulletin reminding their members not to perform our scope work, for example by pushing wheelchairs on flight arrival.  I appreciate the solidarity and support from our friends at CUPE.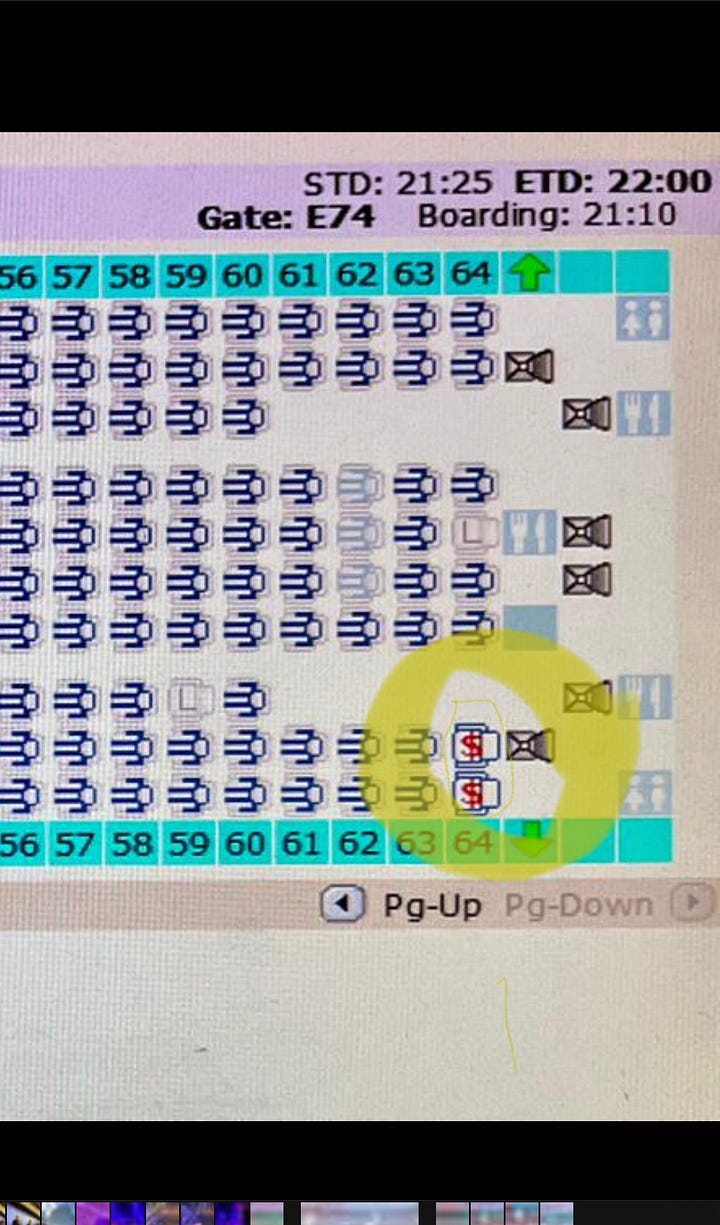 In return, CUPE is asking for our support to help protect their contractually bargained crew seats on board flights. All crew seats are to be left empty unless every single non-crew seat is occupied.  For example, if there is even one other empty seat anywhere on the flight, we should not be using crew seats to seat a family together.  Crew seats can be identified by a dark blue highlight around them.  The picture above is an example of the crew seats on a seat map.  Any questions please reach out to a LEAD or CM Coach.
Sick Days
With the announcement from the Federal Government regarding the ten paid sick days we have asked repeatedly for an update from Labour Relations on how exactly this will be applied for our compressed shifts.  An update from both the company and Union should be forthcoming.  Here is a link to the latest details from the Government of Canada.
https://www.canada.ca/en/employment-social-development/news/2022/11/minister-oregan-announces-final-regulations-to-bring-10-days-of-paid-sick-leave-into-force.html
GIDIP
Your GIDIP board of trustees are planning a cross-Canada roadshow starting in February 2023, with dates and locations to be announced soon.  This is to give everyone the opportunity to ask questions and get to know your GIDIP trustees. 
You can also share questions or concerns directly with the GIDIP trustee for your region at any time.  In Ontario, Terry Carlucci is our trustee and she can be reached at Terry@unifor2002.org
I look forward to seeing you at one of these upcoming meetings.
Small Base Update
Our bargaining committee has met with the company to begin discussions on the Arbitrator's decision on the small bases.  The discussions are currently ongoing and it's too early to share any outcomes.  We have tentatively booked dates to continue this important work in January 2023.  Stay tuned for more updates to come.
Unifor's Submission to Labour Shortages in the Canadian Transportation Sector
Here is a quote from the submission: "As customer satisfaction deteriorates and bottlenecks get worse, aviation workers are facing increasing harassment on the job including verbal and physical assaults, with many being filmed and posted about online for a situation they have no control over – by design."
The full submission can be read here:
https://www.unifor.org/resources/our-resources/unifors-submission-labour-shortages-canadian-transportation-sector
Visiting the District where I started
I had the opportunity to visit and participate in District 508 (YSJ-RES) membership meeting, where I started my career with Air Canada in 1996.  I look forward to visiting more districts in the new year and meeting more members to hear what's on your mind, the good and the bad!
Thank You Atlantic Bargaining Rep Tracy R, District Chair Edie K, and President Tammy M for your invite to D508.  Can't wait to go back.
I wish you and your family all the best during this holiday season!
---
Harold is the Central Region Representative on the Bargaining Committee.
---
DISCLAIMER: This is a newsletter from the Central Region representative of the Bargaining Committee. This newsletter is not intended to communicate any views, positions or opinions of duly elected officials at the Unifor National, Local 2002, or of the Bargaining Committee. This is simply a summary of things that have crossed my desk as the representative for Central Region, which I believe the membership in the Central Region may find to be relevant.